The Ethernet Passive Optical Network (EPON) is a PON encapsulate data with Ethernet and can offer 1 Gbps to 10 Gbps capacity. EPON follows the original architecture of a PON. Here, the DTE connected to the trunk of the tree and called as Optical Line Terminal (OLT) as shown in the following image.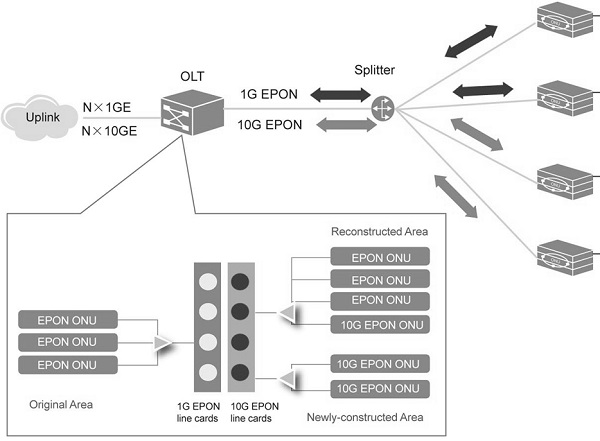 It is usually located at the service provider, and the connected the DTE branches of the tree are called Optical Network Unit (ONU), located in the premises of the subscriber. The signals from the OLT pass through a passive splitter to achieve the ONU and vice versa.
EPON Concepts
EFM has introduced the concept of EPON in which a point-to-multipoint (P2MP) network topology is implemented with passive optical splitters. However, the Ethernet point-to-point fiber offers the highest bandwidth at a reasonable cost. Ethernet Point-to-multipoint fiber provides relatively high bandwidth at a lower cost. The purpose of the IEEE Std 802.3ah was to extend the application of Ethernet to include access subscriber networks to provide a significant increase in performance while minimizing equipment costs of operation and maintenance.
The conclusion of the IEEE 802.3ah EFM standard significantly expands the range and reach of Ethernet transport for the use in access and metro networks. This standard allows service providers a variety of flexible and cost effective solutions for the provision of broadband Ethernet services in the access and the metro networks.
EFM covers a family of technologies that differ in the type of media and signaling speed – it is designed to be deployed in the networks of a type or multiple (s) FSM media as well as interact with mixed 10/100/1000/10000 Mb/s Ethernet networks. Any network topology defined in IEEE 802.3 can be used on the premises of the subscriber and then connected to an Ethernet subscriber access network. EFM technology allows different types of topologies to achieve maximum flexibility.